RISO's technology
An eco-range
REDUCED ENERGY CONSUMPTION
More performance, less impact
While guaranteeing high print speeds, the cold inkjet printing technology developed by RISO also permits a great reduction in the electrical requirements of our systems. The ComColor printers therefore consume up to 91%* less electricity during operation than traditional copiers and printers.
Everyone benefits: the energy bill is lower and atmospheric CO₂ emissions due to electricity production are greatly reduced.
*Based on a comparison between the average of RISO ComColor FT and GL models with the average of 12 40-60 ppm laser copiers, both print and standby, based on 300,000 pages per year.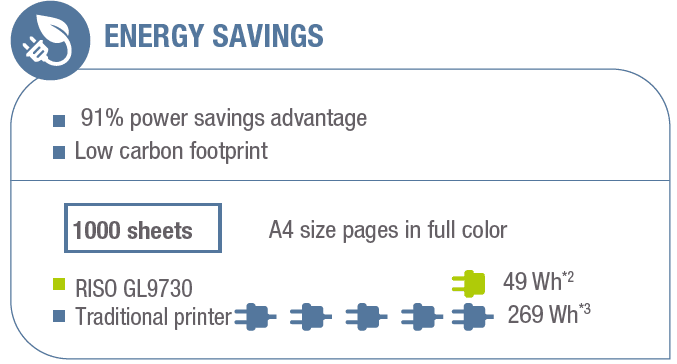 REDUCED SUBSTANCE EMISSIONS
A healthy working environment
Thanks to the cold printing process used in RISO's ComColor inkjet printers, you are not exposed to any ozone emissions and the release of volatile organic compounds is greatly reduced compared to toner-based laser systems.
Ozone irritates the respiratory tract, the mucous membranes and the eyes. With RISO, you can work in a healthy environment where everyone can get on with their job in comfort.
What we do for the environment
Duplex printing.

Re-use used paper for your drafts

Configure your hardware's standby mode

Try to use recycled paper

Make sure that your equipment is properly maintained and used

Contribute to the collection of used consumables and paper
eco-design
A reduced environmental footprint
Our Research & Development teams share the environmentally responsible approach that is so deeply ingrained in RISO's DNA. That is why RISO's engineers design and produce printing solutions that are truly environmentally-friendly.
Even before production starts, our equipment is designed to respect the environment at every stage of its lifecycle – from distribution through to operation and recycling. Renewable or recycled materials are used in order to optimise the use of existing raw materials, meaning that the consumption of natural resources by our printing solutions is minimised.
Optimised recycling
Sorting, collection and recycling
The recyclability of paper and the deinkability of printed material are further important aspects in the field of sustainable development. Printed documents can be "cleaned" during the recycling process if the ink particles are hydrophobic. Most inkjet technologies do not permit this. However, ComColor ink, which is oil-based, is an exception and helps make enhanced paper recycling possible.
Certifications
Standards and Eco-labels
Blue angel

Epeat

ECO MARK

Deinkability

ISO 9001

ISO 14001

ISO 11798*
*Black ink for ComColor inkjet printers satisfies three parts of ISO 11798 : Appearance, Lightfastness (monochrome images), Effects of recording on the mechanical strength of the paper, part 1 Tensile energy absorption
European Directives
Electrical and Electronic Equipment Waste

Registration, evaluation and authorisation of chemical products

Energy products

Limitation of the use of hazardous substances