News
A long-term partnership
A long-term partnership
While Youssef Allam Group celebrates its 70 years anniversary, RISO is glad to look back on their 30 years of partnership!
The Father of printing in Egypt
In 1948, Youssef Allam had a vision to revolutionize the paper trade in Egypt. He seized the opportunity to establish a paper trade company; the first of its kind in the region.
Youssef Allam was able to lead the paper trade in Egypt in a short period and was able to save the industry, thus was named the "King of Paper" for his great achievements.
By the year 1968, Youssef Allam expanded the business to production printers. With the rise of digital printing, the group started integrating digital and offset printing to modernize the printing presses in Egypt, while capitalizing on their existing systems.
In 1989, the first agreement was signed between RISO KAGAKU Corporation and Youssef Allam Group. At first, it was the duplicator technology that was introduced to the Egyptian market, followed by the RISO inkjet technology in 2005. And since then we have worked together with a strong willingness to support the Egyptian development in the printing industry.
Over the years, Youssef Allam Group expanded to answer all printing needs. With RISO materials they started by providing schools and helped to give easier access to knowledge.
The group is now growing onto more markets such as banks, professional printers, commercial enterprises …
In 2009, the father of printing passed away leaving behind the empire he built in the hands of the second generation, which, continues the achievements of their late father and now passing on the torch to the third generation to achieve more success stories, stability and consistency for the group.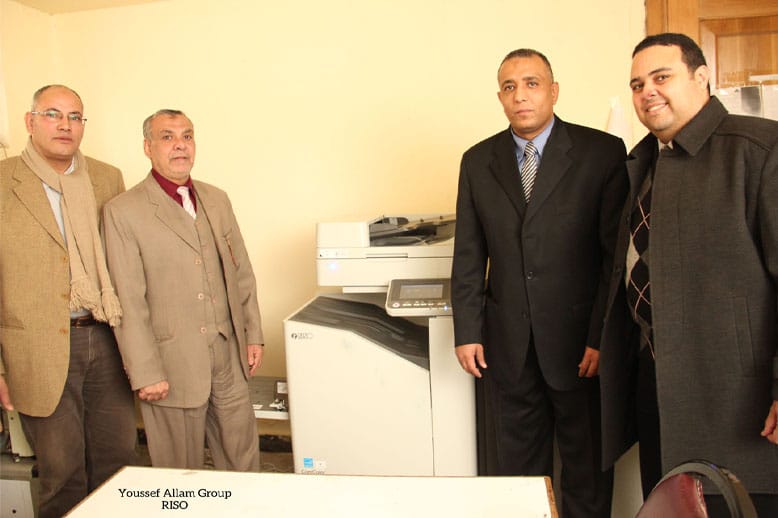 Success stories
Recently, Youssef Allam Group equipped multiple establishments of the healthcare industry. RISO inkjet printers perfectly met the needs of this industry thanks to its eco-friendly features.
They were also able to support the Ministry of Civil Aviation in providing a ComColor GD7330, the first digital printing press of the ministry that has been able to solve the offset printing problems while offering higher performances.